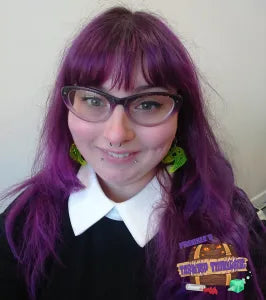 Meet the Creator, Frankie Ray
Since 2012 Frankie has been making cute and quirky tabletop themed trinkets and treasures. Their favourite products are their Gelly Cube soaps (made with lavender from their own garden) and handsculpted mimics. A lifelong fan of tabletop gaming, Frankie started making things for themself, then gifts for friends, and it expanded from there!
A veritable click clack gremlin, Frankie is always creating fun new ways to store their dice (many of which came from the lovely people at Critical Kit) or minis that they have painted.You can follow Frankie at www.tabletoptinkering.com or @tabletoptinker/@tabletoptinkering on all socials.
If you're on this site then you must be a friend of Critical Kit!
If so, please feel free to use code HUGSANDFRANKS for 10% off their Etsy shop.
Take me to Table-Top Tinkering
Frankie's creations
Antelope Horns

These horns are hand painted, composed and assembled to give the perfect fey or satyr vibe. It is recommended to wear these with bobby pins for ultimate comfort and security.

Check out more from Frankie

Jelly Cube with full set of dice

The friendliest gelly cubes around! With a 90% guarantee they won't envelop you, these soaps have a refreshing scent and contain a full set of polyhedral dice.

The dice set contained is matching, but random. For specific coloured sets, please contact me to arrange a custom order. I'm happy to help where possible!

Check out more from Frankie

Conditioning Rings

This set of 16 condition rings is compatible with most tabletop roleplaying games. Main ring is a duochrome acrylic that flashes gold/magenta and the writing is inked and glossed.

Available as a set for £15 or individually for £3 each. When purchasing individual please provide a note with your order from the ones pictured so I know which one you want.

Miniatures not included, though I do provide miniature painting on commission basis.

Check out more from Frankie